FUNDAMENTALS OF MINE RECONCILIATION
Iicio / Cursos OnLine /
Fundamentals of mine reconciliation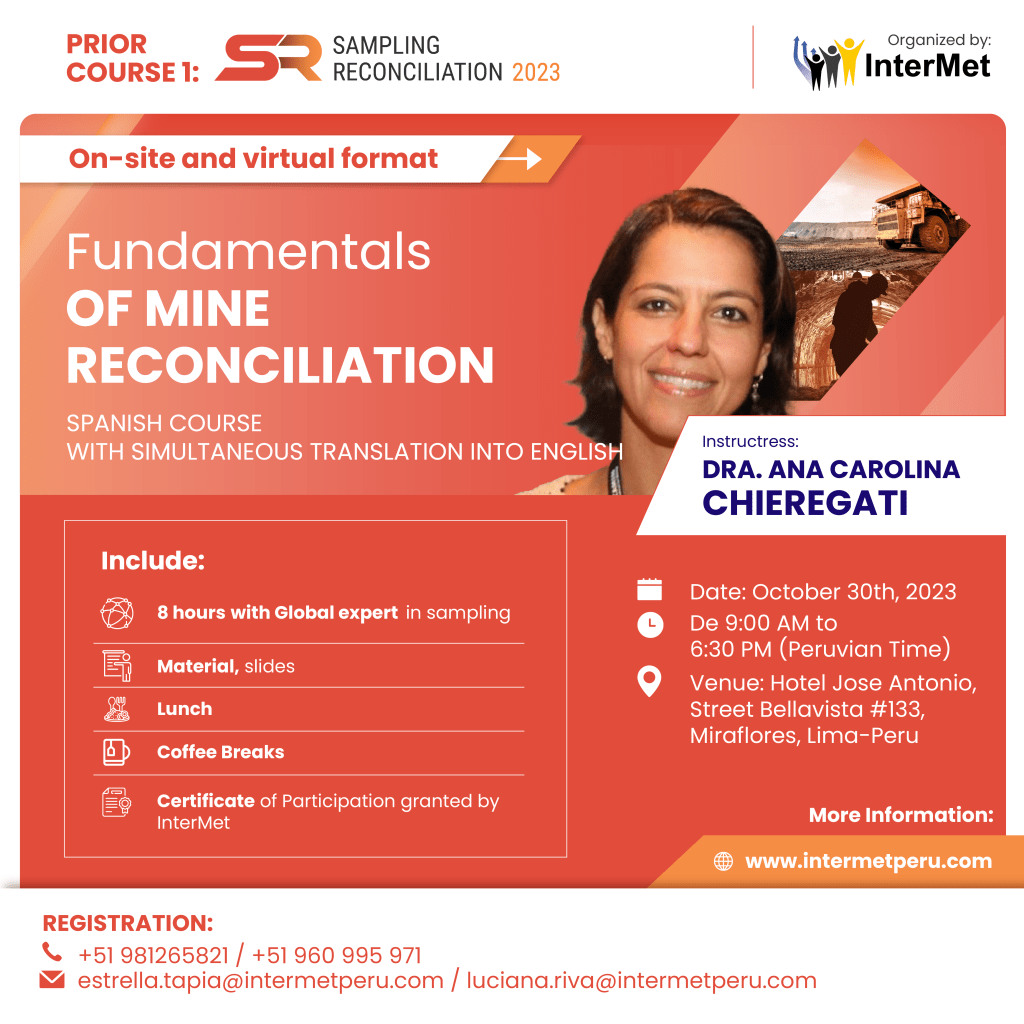 WHAT YOU WILL LEARN
Concepts of precision, accuracy, and representativeness of the data used in reconciliation
Precision and accuracy of samples at the mine, the plant, and the laboratory
The influence of sampling and the importance of QA-QC on reconciliation results
The history of the 'Mine Call Factor'
Difference between reconciliation factors and reconciliation indicators
How to define the reconciliation nodes and the reconciliation relationships
Reconciliation in the different stages of the mining project
Sources and causes of the deviations observed in the reconciliation
Difference between proactive reconciliation and reactive reconciliation
The risks of 'illusory reconciliation'
The best sampling systems for mine-to-mill reconciliation
How to analyze and interpret the results of a reconciliation system
How to develop a proactive reconciliation model
How to develop a reconciliation code of practice
Case study 1: optimizing mine-to-mill reconciliation in a gold mine
Case study 2: a case of illusory reconciliation in a copper and gold mine
Exercise: calculation of reconciliation indicators and analysis of a reconciliation system
YOU SHOULD ATTEND
Exploration and ore grade control geologists
Mine engineers, process engineers, and metallurgists
Reconciliation managers
QA-QC managers
Metal accounting managers
Presidents, vice presidents, and operations managers
Mining technicians and students
WHAT YOU WILL LEARN
Concepts of precision, accuracy, and representativeness of the data used in reconciliation
Precision and accuracy of samples at the mine, the plant, and the laboratory
The influence of sampling and the importance of QA-QC on reconciliation results
The history of the 'Mine Call Factor'
Difference between reconciliation factors and reconciliation indicators
How to define the reconciliation nodes and the reconciliation relationships
Reconciliation in the different stages of the mining project
Sources and causes of the deviations observed in the reconciliation
Difference between proactive reconciliation and reactive reconciliation
The risks of 'illusory reconciliation'
The best sampling systems for mine-to-mill reconciliation
How to analyze and interpret the results of a reconciliation system
How to develop a proactive reconciliation model
How to develop a reconciliation code of practice
Case study 1: optimizing mine-to-mill reconciliation in a gold mine
Case study 2: a case of illusory reconciliation in a copper and gold mine
Exercise: calculation of reconciliation indicators and analysis of a reconciliation system
DRA. ANA CAROLINA CHIEREGATI
Ana Carolina is a Mining Engineer, holding a MSc and PhD in Mineral Engineering from the University of Sao Paulo, and a post-doctorate in sampling from the University of Aalborg, Denmark. Since 2002, she has been a professor at the Department of Mining and Petroleum Engineering of the University of Sao Paulo, where she is responsible for teaching Mineral Exploration, Sampling, Quality Control, and Reconciliation. With 18 years of experience in sampling and reconciliation, she has taught in Brazil, Argentina, Peru, and Australia. Additionally, she has published several technical papers and book chapters, and has participated in numerous projects in Brazil, Argentina, Chile, Peru, Honduras, USA, Mexico, and Mongolia, focusing on mine reconciliation and the optimization of sampling procedures in gold, iron, zinc, copper, lead, nickel, niobium, phosphate, tin, vanadium, rare earths, and bauxite mines.
Complete CV:http://lattes.cnpq.br/2179900906147256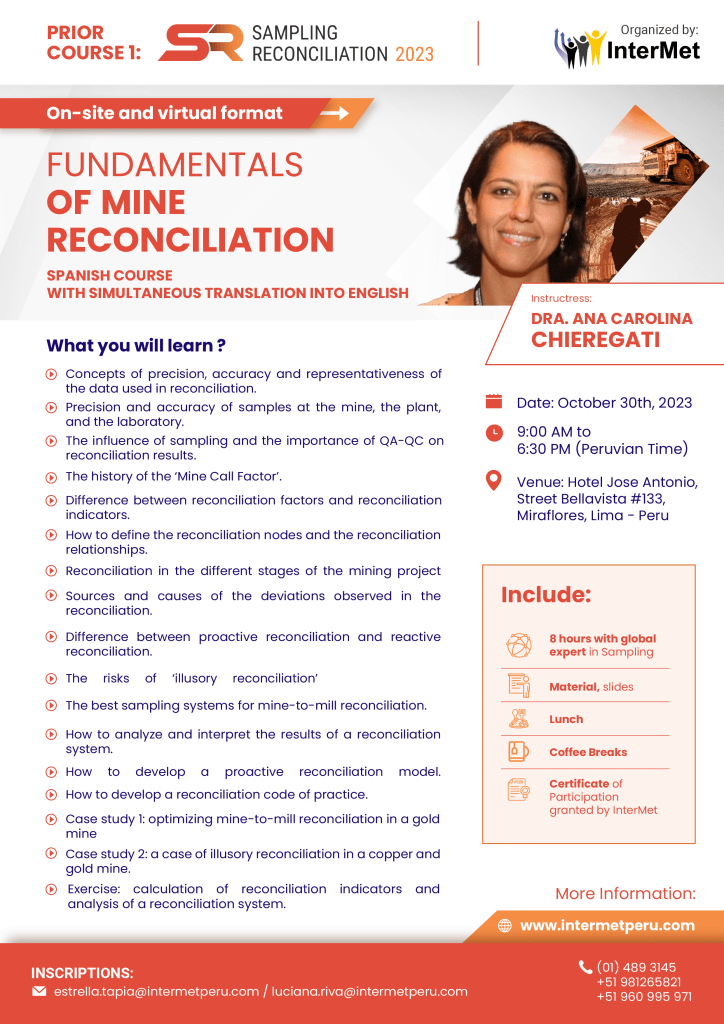 DATE :
OCTOBER 30, 2023
SCHEDULE :
9:00AM TO 6:30PM (Peruvian Time)
LIVE ONLINE COURSE
VENUE: HOTEL JOSE ANTONIO, MIRAFLORES, LIMA – PERU
FORMULARIO CONSULTAS DEL CURSO
No dude en comunicarce con nosotros y de inmediato lo vamos a guiar en todo lo necesario.
Mail:
informes@intermetperu.com
Whatsapp:
+51 960 995 971