MINE TO MILL 2023 : ADVANCED MINE TO MILL OPTIMISATION
Inicio / Cursos OnLine / Mine To Mill 2023: Advanced mine to mill optimisation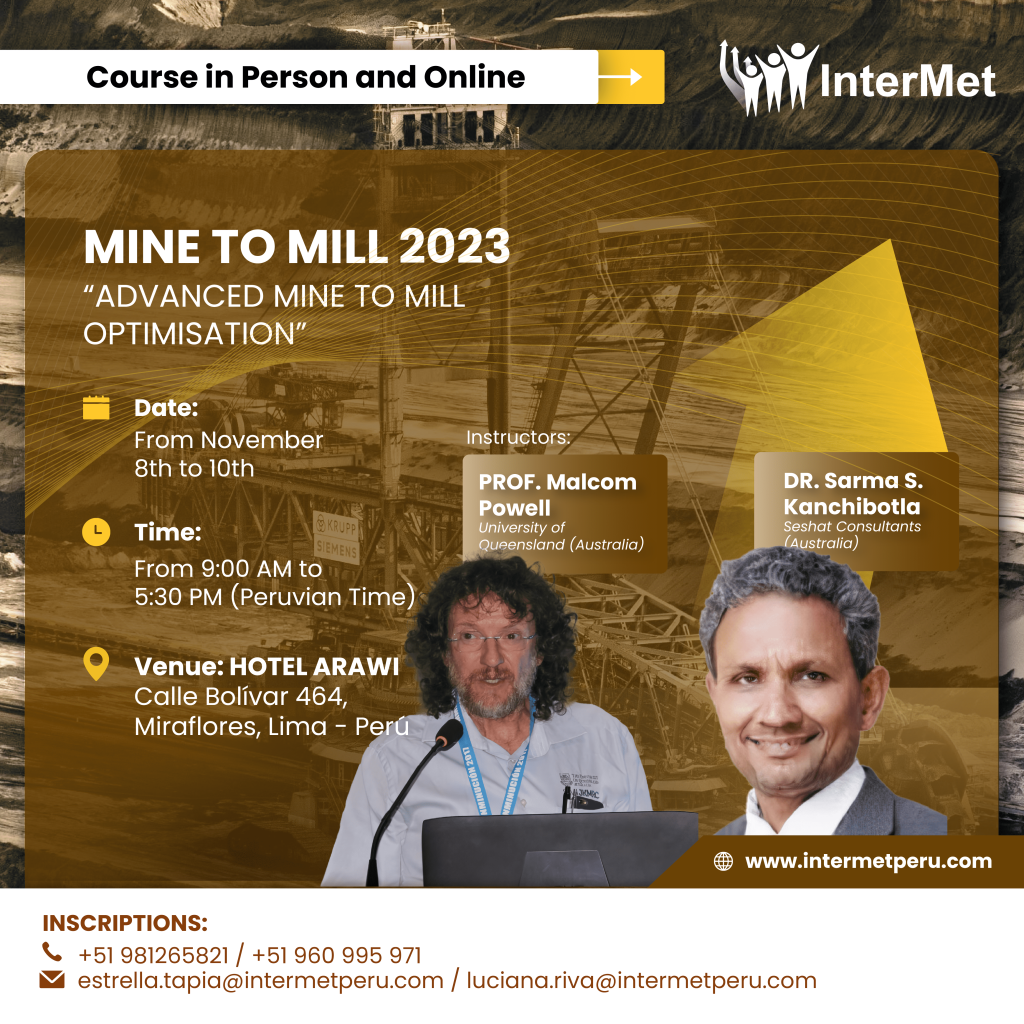 The in-situ ore is separated from the waste rock in most metal mining operations. It is subjected to a series of breakage and separation processes to recover the valuable material from the waste. Profitability in this industry depends on how efficiently the in-situ rock is converted into the final helpful product.
Even though the breakage and separation processes at the mine and mill are interdependent, traditionally, mining and milling processes are managed and optimised as separate cost centres with little understanding of the impact of one method over the other. In the late 1990s, researchers at the University of Queensland have proposed a concept popularly called "Mine to Mill Optimisation" and demonstrated that all the processes in the mine to mill value chain are inter-dependent and blast fragmentation (or particle size distribution) plays a critical on downstream processes, especially on the downstream AG/SAG mills. During the initial stages, the focus was on producing finer fragmentation from blasts such that the fine particles can increase SAG/AG mill throughput where there is enough capacity in the ball mills. However, the first generation mine to mill strategy has the following limitations:
Finer fragmentation from the blasts constrained the circuit ball mill, limiting mill throughput and making the circuit grind coarser, affecting recovery.
Indiscriminate increase of blast energy without understanding its impact on dilution and damage leads to poor overall meal output and higher risks of wall damage.
The Advanced Mine to Mill concept recognised these limitations and developed practical strategies to address them. A brief list of some of these strategies is given below
Produce optimum size distribution (not just more acceptable) and balance the transfer size between the SAG and ball mill to improve the overall circuit throughput (Powell et al. 2018).
Implement production schedules and blending strategies to primary consistent and optimum feed size and hardness to the mill.
Implement strategies to minimise dilution, ore loss and damage from blasting without compromising on fragmentation (Picorelli et al., 2018).
Techniques to quantify the ore variability from advanced laboratory tests and measure drilling parameters from blast hole drilling (Parades et al., 2018, Faramazari et al., 2018).
This workshop is designed to explain the basic principles of Advanced Mine to Mill strategies and then how to apply them in the field. It provides practical solutions and case studies to demonstrate the potential value of these strategies. Finally, the workshop will increase the awareness and communication between mining engineers and metallurgists to work collaboratively by providing practical problem-solving exercises.
This workshop is aimed at drill and blast engineers, mine superintendents, metallurgists, plant superintendents, mine managers, concentrator managers, general managers, asset optimisation managers, and business improvement managers - personnel responsible for improving the overall productivity of operations.
MINE TO MILL 2019
DAY 1 - THEORY
SESSION
TOPIC
DURATION
START
FINISH
Session 1
Introduction
Outline of course / Introductions/Expectations
30 min
09:00
09:30
Advanced Mine to Mill - How different it is to traditional Mine to Mill optimisation
45 min
09:30
10:15
Tea / Cofee break
30 min
10:15
10:45
Session 2
Know your deposit
Deposit Knowledge and Characterisation of Ore Body for Value Chain Optimisation
1:15 h
10:45
12:00
Lunch
1 h
12:00
13:00
Session 3
Rock breakage in mine and mill - blasting, crushing, grinding and fine grinding
Theory and principles of rock breakage in mine and mill
1:15 h
13:00
14:15
Tea / Coffee break
30 min
14:15
14:45
Session 4
Separation of Valuables from Waste - at the mine and the mill
Theory and principles ore loss, dilution, classification and flotation
1:15 h
14:45
16:00
Discussion of site issues
1:15 h
16:00
17:15
DAY 2 - APPLICATION OF THEORY
SESSION
TOPIC
DURATION
START
FINISH
 
Review of Day 1
30 min
09:00
09:30
Session 5
Blast design principles and impact of blast outcomes on mine to mill value chain
How to optimise particle size distribution for downstream processes ?
1 h
09:30
10:30
Tea / Cofee break
30 min
10:30
11:00
How to minimise ore loss and dilution
45 min
11:00
11:45
How to control blast damage and maintain pit slope stability
45 min
11:45
12:30
lunch
1 h
12:30
13:30
Session 6
Crushing and grinding optimisation
How to run crushers to improve downstram grinding efficiency
45 min
13:30
14:15
How to run SAG/AG and ball mills? Balancing act
1 h
14:15
15:15
Tea / Coffee break
30 min
15:15
15:45
Session 6.1
daily implementation
Controlling the process
1 h
15:45
16:45
Discussion of site issues
1 h
16:45
17:45
DAY 3 - CASE STUDIES AND PROBLEM SOLVIING
SESSION
TOPIC
DURATION
START
FINISH
Session 7
where it worked? Where it failed ? Reasons and what's next ?
Practical tools for mine to mill optmisation
30 min
09:00
09:30
Case Studies
1:30 h
09:30
11:00
Tea / Cofee break
30 min
11:00
11:30
What's next ? Emerging technologies and their potential imapct ?
1 h
11:30
12:30
Lunch
1 h
12:30
13:30
Session 8
Work Shop
Workshop - Problem presentation
30 min
13:30
14:00
Break out session - Problem solving
30 min
14:00
14:30
Tea / Coffee break
30 min
14:30
15:00
Presentation of workshop outcomes by each group (15min for each group - 120 min)
2 h
15:00
17:00
Discussions & Feedback
30 min
17:00
17:30

Prof. MALCOLM POWELL
Emeritus Professor University of Queensland.
Honorary Professor University of Cape Town.
Director of Liner Design services, Comminution & Transportation Technologies Inc. & Comminution Reimagined ltd., Chief Technology Officer Geopyörä.
Malcolm has applied fundamental comminution research to design and process improvement on over 60 mines worldwide during 35 years at Mintek, UCT, and then as Professor of comminution at the JKMRC in Australia. His work has been published in over 200 papers and presented at many conferences worldwide. Malcolm collaborates extensively with close compatriots on five continents, forming the Global Comminution Collaborative (GCC) – providing an expert research and consulting base covering the whole comminution process chain.
Malcolm's research vision is of integrated total process simulation as a tool for innovation – linking geology, mining, energy and size reduction, gangue rejection and recovery into flexible process design and process optimisation. Through his research companies, Malcolm is currently applying advanced modelling techniques and knowledge of fracture to the development of new highly energy-efficient, processes enhancing and lower environmental impact equipment to be integrated into flexible processing of the future.

Dr. SARMA S. KANCHIBOTLA
Education and Experience.
Three postgraduates' degrees, including a PhD in Mining Engineering and a Master's degree in Business Administration. Over 35 years of professional experience.
Nine years with the University of Queensland and JTech as a Professor and manager of mining research and consulting.
Three years with METSO as General Manager, business development and strategic projects.
Two years with Thies Pty Ltd as Technical Manager, he led the continuous development processes in drilling and blasting solutions.
Six years with Dyno Nobel managing the DynoConsult on Australia's east coast and Indonesia implementing innovative blasting outcomes in the mining of essential costumers.
Eight years with Julius Kruttschnitt Mining Research Center, he managed and implemented applied blasting research in many mines around the world.
Ten years with IDL Chemicals Ltd, India, managing product development, technical evaluation and blasting services.
He is an exclusive consultor and speaker for InterMet.
Awards and Publications.
In 2022, AusIMM Mineral Industry Operating Award for implementing the Mine to Mill project.
In 1992, Ian Morley Award for the best performance of JKMRC postgraduate students.
Author of more than 60 technical papers (in different international conferences, journals and magazines), three theses and one book in the field of explosives and blasting.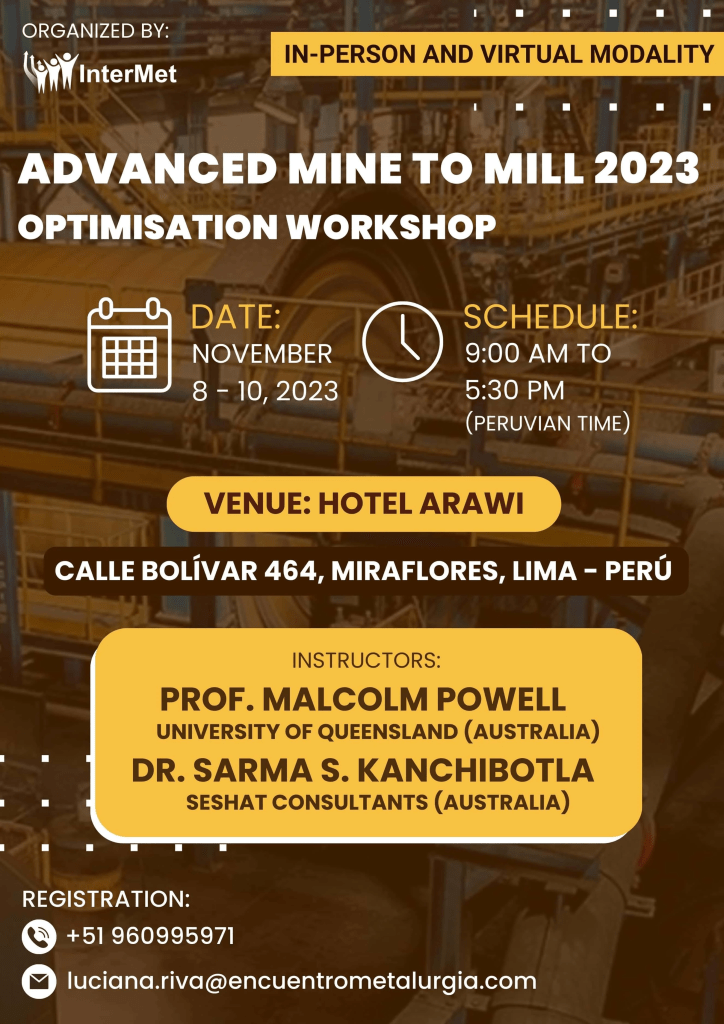 DATE :
NOVEMBER 8 TO 10 , 2023
SCHEDULE :
9:00AM TO 5:30PM
IN PERSON &
ONLINE 100% LIVE
FORMULARIO CONSULTAS DEL CURSO
No dude en comunicarce con nosotros y de inmediato lo vamos a guiar en todo lo necesario.
Mail:
informes@intermetperu.com
Whatsapp:
+51 960 995 971