MINERALOGY DIAGNOSTICS FOR COPPER AND GOLD
Iicio / Cursos OnLine /
Mineralogy diagnostics for copper and gold
INTRODUCTION
Why recovery so important in mining?
To maximize value from an ore body or a mining operation, recovery is one of the key drivers whether it's for precious & base metals.
The challenge, however, is that this source of revenue is constantly under threat due to various challenges such as increasing ore complexity, high ore variability, operational inefficiencies and lack of technical know-how.
Also, environmental regulations, shortage of water, water quality along with high cost of energy and consumables put additional constraints on operational costs and recovery.
COURSE CONTENTS
Learn how to do diagnostics mineralogy
Learn the key concepts of Cu/Au - deportment
Key concepts of recovery
Mineralogy Grade Recovery Curve
Aparup Chattopadhyay, P.GEO. & PhD.
25+ years in the gold and base metals industry focusing on quantitative gold-copper deportment and preg-robbing characteristics of carbonaceous matters (TCM).
Extensive experience in precious metal deportment and quantitative mineral analysis for metallurgy diagnostics.
IPMINS Inc.: Director & Lead Mineralogist since May 2015.
PRO Inc.: Manager, Process Mineralogy.
SGS Inc.: Senior Mineralogist, Advanced Mineralogy Facility.
Ph.D. from Indian Institute of Technology, Kharagpur.
M.Tech in Applied Geology from Indian Institute of Technology.
Proprietary technique "Integrated gold and copper deportment"
Barun Gorain, P.ENG. & PhD.
25+ years in the gold and base metals industry focusing on technology
Extensive experience in plant operations, projects and new technologies
Ore2Metal Inc.: Managing Director & Founder since June 2020.
Hindustan Zinc: Chief Technology Officer for Hindustan Zinc, Vedanta
Barrick Gold: Director of Strategic Technology Solutions
Teck Corp: Group Leader based in Trail, British Columbia
PhD from JKMRC, University of Queensland
B.Tech in Mineral Engineering from Indian School of Mines.
Patented technology "AMBS" commercially used at Barrick's Jabal Sayid in Saudi Arabia and Antofagasta's Esperanza in Chile for copper and copper-gold processing.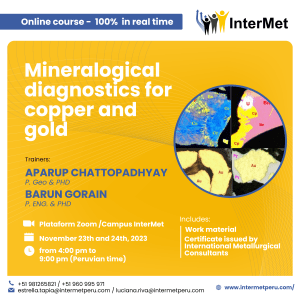 DATE :
NOVEMBER 23 TO 24, 2023
SCHEDULE :
4:00PM TO 9:00PM (Peruvian Time)
ONLINE 100% LIVE