THE ECONOMIC NECESSITY OF GOOD SAMPLING PRACTICES
Iicio / Cursos OnLine /
The economic necessity of good sampling practices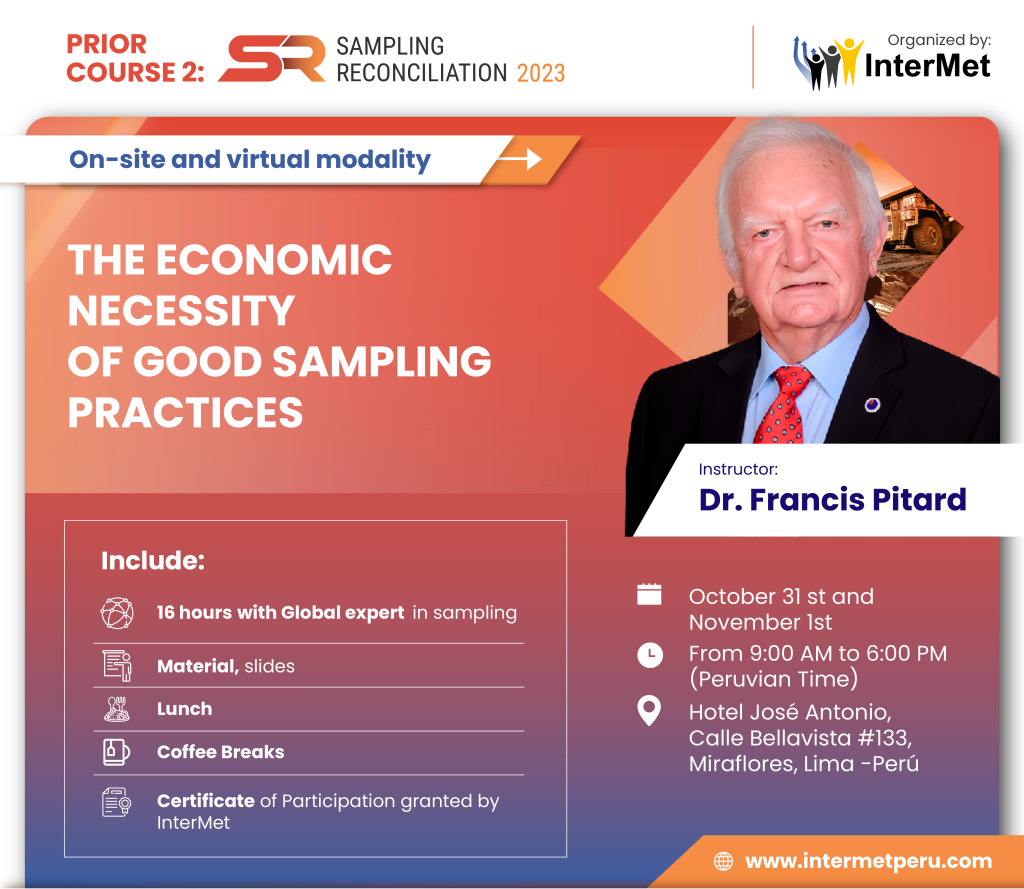 COURSE OBJECTIVES
Poor sampling, compounded by poor laboratory subsampling, leads to questionable geostatistics, and generates severe conciliation problems between the geological model, the mine, and the plant estimates. These problems also affect the price of commodities and the validity of environmental assessments. The result is a huge money loss for the company involved, evolving later in likely litigation. It is of key importance for geologists, miners, metallurgists, chemists, and environmental specialists to extract maximum information from the available data, as large investments and crucial decisions depend on it. False evaluations lead to devastating scenarios such as:
Abandonment of viable properties.
Exploitation of unprofitable properties.
Mismanagement of viable properties.
Incompetence in fraud detection.
It is critical to quantify the heterogeneity of important constituents in any new property. Failure to do appropriate testing leads to invalid sampling and subsampling protocols, excess drilling, and a biased database that would later lead to false geostatistics. The following sequence is part of an inescapable practice:
How is the constituent of interest distributed in the material to be sampled?
Conduct Heterogeneity Tests to quantify the sampling characteristics of the constituent of interest.
Optimize sampling protocols and the way they are implemented, according to the results from the Heterogeneity Test.
Implement protocols using valid sampling equipment: 75% of the sampling equipment available on the market will never do the job.
Implement a comprehensive, systematic quality control program to monitor sampling precision and accuracy.
WHAT YOU WILL LEARN
The nine kinds of sampling errors, how they take place, and how to minimize them; most people can list only two!
Sampling correctness, so you can reject sampling systems that will never perform a satisfactory job.
Become familiar with necessary tests to be performed at mines and plants to optimize all your sampling protocols.
To select appropriate Data Quality Objectives for operating parameters, which are worth continuous monitoring, to minimize your operating cost.
To better appreciate the value of existing chronological data that allows you to better control any process.
This data is valuable for management in identifying structural problems that lead to unnecessary financial losses.
Variography is the key to identify the various sources of variability affecting routine chronological data.
You will discover the power of Chronostatistics.
Using existing data, variability from sampling and measurement must be clearly separated from process trends and cycles.
Unless this is well done, continuous process improvement will remain elusive.
The careful use of the Moving Average and especially its auxiliary functions can greatly help you to minimize the effect of poor sampling and measurement precision.
Relative Difference Plots can clearly show the presence of conditional biases from sampling and from laboratories.
Realize the weakness of today's standards on sampling: They are obsolete and not in line with the Sampling Theory.
Get updated on sampling developments exposed during eight World Conferences on Sampling and Blending.

DR. FRANCIS PITARD
Dr. Francis F. Pitard is a consulting expert in Sampling, Statistical Process Control and Total Quality Management. He is President of Francis Pitard Sampling Consultants (www.fpscsampling.com) and Technical Director of Mineral Stats Inc. (www.mineralstats.com) in Broomfield, Colorado USA. He provides consulting services in many countries. Dr. Pitard has six years of experience with the French Atomic Energy Commission and fifteen years with Amax Extractive R&D. He taught Sampling Theory, SPC, and TQM for the Continuing Education offices of the Colorado School of Mines, the Australian Mineral Foundation, for the Mining Department of the University of Chile, and the University of Witwatersrand in South Africa. He has a Doctorate of Technology from Aalborg University in Denmark. He is the recipient of the prestigious Pierre Gy's Gold Medal for excellence in promoting and teaching the Theory of Sampling (Cape Town, South Africa, 2009). Consultant of InterMet for Peru. Chairman of II Mineral Sampling Congress to be held in Lima on September 2021.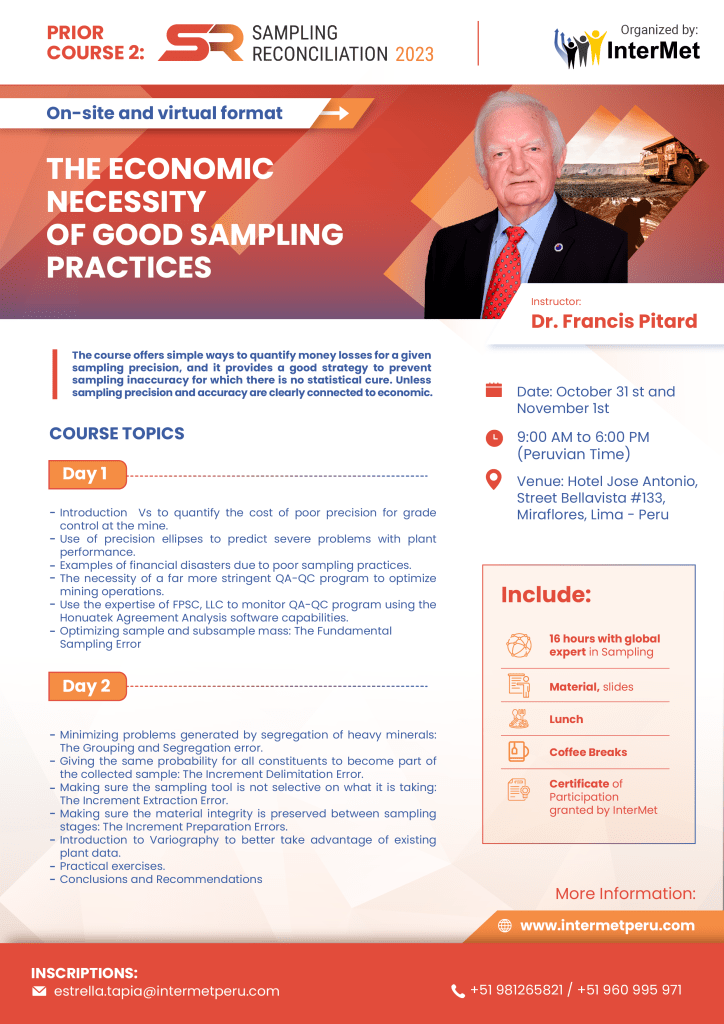 DATE :
OCTOBER 31 TO NOVEMBER 1, 2023
SCHEDULE :
9:00AM TO 6:00PM (Peruvian Time)
ON-SITE AND LIVE ONLINE COURSE
FORMULARIO CONSULTAS DEL CURSO
No dude en comunicarce con nosotros y de inmediato lo vamos a guiar en todo lo necesario.
Mail:
estrella.tapia@intermetperu.com
Whatsapp:
+51 960 995 971